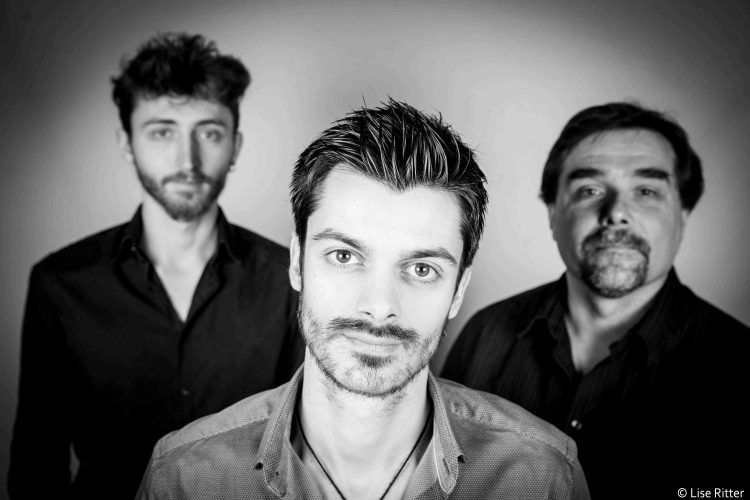 A universe very rich in emotion, a varied repertoire and wide influences, which give life to spontaneous music. Three musicians, two guitars and a double bass! The Trio has a resolutely gypsy footprint, influenced by the encounters that the guitarist was able to make within the travel community.
Following the worthy legacy of the great Django Reinhardt, this trio has a real passion for gypsy music and what it expresses. Adrien Marco has a personal good, inspired by the Sinti community: a lively, aerial, and precise game. Passion, and expression are omnipresent in this music. That's whatAdrien Marco Trio invites you to discover and share.
Having become an essential reference for Gypsy jazz in Burgundy in a few years, Adrien Marco Trio has since broadened his playing field to the whole country and others (Germany, Italy, etc.). The guitarist also participated in the Festival Django in June 2012 to Boston (USA), and at International Jazz & Joy Festival 2016 to Worms (Germany), and finally in the headline of the Gipsy Jazz Festival 2018 to Rooms (France)
Presentation of the Group
Adrien Marco -Guitar soloist
of Italian roots, Adrien Marco is a guitarist from Burgundy, who starts at the age of 17. Self-taught, he started the instrument by randomly discovering the music Django Reinhardt. A style in which he finds a part of his personality: emotion, and the pleasure of exchanging. After this stroke of heart, he naturally chooses this path. He then turned to the game of the Sinti community, a typical game where music is pure language. Over time, he meets families of travelers and evolves with them. Living in Paris, he has the pleasure of meeting talented musicians like the renowned Samy has. The latter will give him his first concerts in Paris. He will later play The Flea mug (Saint Ouen) and other famous Parisian places (Monk Tavern of Cluny, Charon Workshop, etc.). He meets over time great masters of style as Angelo Debarre, Tchavolo Shmitt, Dorado Schmitt and many others...
He created his first group Ketelos, in 2005, which received a few years later the price of " Group emerging from Yonne ». Adrien Marco Trio is then founded in 2008. He is accompanied byAdrien Ribat In rhythm guitar or Titi Hagg Yes Mathieu Chatelain. and to Maxime Ivachtchenko On the double bass. Since then, the trio has been skimming all over France. We will also note the first part of big names like Sanseverino At the eclectic Festival in 2010. On the other hand, Adrien Marco is invited by Ricky Ford To make the first part of Bobby FewThe Toucy Jazz Festival In 2012. The same year, the 24-year-old guitarist leaves for Boston (MA), invited by the organizer of the FeStival Django In June. Great week during which he played with guitarists such as Denis Chang (Quebec), Paulus Schaffer (Holland), Olli Soikelli (Finland), Stephane Wrembel (EU). In November 2014, the trio shares the stage with the group "The man's fingers". And in 2018 that of the clarinetist Louis Sclavis.
The recognized musician continues his journey totaling over 900 concerts and notable events, such as recording with Ricky Ford In the studio for the album of a friend in common. Now Adrien Marco and his trio are at the top of the poster festivals like Gipsy Jazz FestivaL (2018), alongside Romanesque Yes Ninine Gallagher.
Although deeply attached to the gypsy game, Adrien Marco is influenced by other styles of music, ranging from American hip hop to funk music, jazz, classical music and Italian song. He is also inspired by other guitarists like Georges Benson, Joe Pass, Luis Salinas, or even Costa Lucacks, to whom he pays homage in his debut album " Clin d'oeil » released in 2013. He also released the album «» Voyages In 2016, opus very rich, and greeted enthusiastically by critics (Cf. "Reviews of the albums") .
What will come out of Adrien Marco's game are all his influences, but also a lot of pleasure in playing this music, a primordial desire to get his emotions through the notes.
Adrien Ribat -rhythm guitar
Adrien Ribat started the guitar at the age of 14 while playing rock and blues. He then discovers Gypsy jazz by listening to the albums of the famous guitarist Django Reinhardt. At the age of 20, he learns jazz alongside Pierre Cullaz and Boulou Fernandes. It was during the same year that he met Joe Marco In Paris, and joined his trio in 2011. He is now a part of various trainings, and is trying to enrich his musical language through different styles. Ranging from gypsy Jazz to Variety, to rock and folk.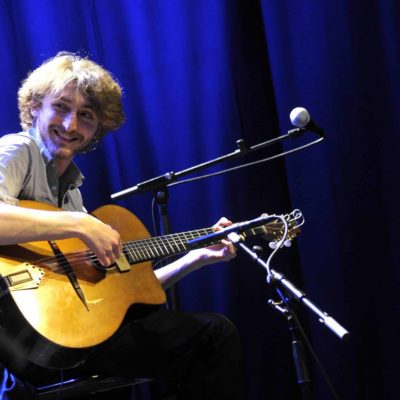 Titi Weiss -rhythm guitar
Born and residing in Forbach, Titi Weiss hails from a gypsy family. He starts the guitar small, with his uncle who teaches him his first chords. He then made the discovery of Django Reinhardt But also the Titi Winterstein Quartet. He made his first concerts with Bronson Schmitt (Son of Dorado Schmitt) and his cousin Toto Haag. During his career he accompanies musicians such as Timbo Merhstein, Geisela Reinhardt, Gaga Weiss . In 2017, Titi met Adrien, and their complicity was immediate. The idea then arises spontaneously for them to play together.
Maxime Ivachtchenko -double bass
From a mother dancer star, and a father conductor. He spent three years at the musical college in Kiev's classic double-bass class. Then he is recruited into The Red Army As a bass player. He studied classical bass at the Kiev Higher Conservatory, while working as a complementary musician of the Kiev Symphony Orchestra. At the same time, he plays in a reputed group in Ukraine named " Ukraiina ». Group with which he toured in Italy, Austria, Germany and France. Then he decides to settle in France. Much later, Adrien Marco And the double bassist meet, and choose to work together. Thus, it is quite natural that Maxime Ivachtchenko incorporates the trio.